Welcome to Whirlwind Celebrations
We offer wonderfully unique and beautiful grazing gift boxes, cheese platters and grazing tables in Perth, Western Australia.
Filled with delicious sweet treats, all the cheese, thoughtful gifts, custom touches and a sprinkling of OTT details.
Completely customisable - so choose all your faves! Delivery available all around Perth.
Celebrate all of life's special whirlwind moments with a Whirlwind grazing box, share platter or grazing table 🖤
Shop Now
It's all in the details
Our cheese + dessert grazing is always beautifully presented with the utmost attention to detail.
Fresh roses, lace, gold leaf, rose petals, speciality gourmet products, edible flowers....all the pretty embellishments that make us unique and extra special.
Try our signature triple cream brie decorated with stunning local honeycomb, fresh fruit and edible flowers.
SHOP GRAZING BOXES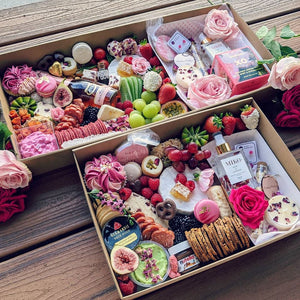 Thoughtfully curated gifts
For something just that little bit extra special, our grazing gift boxes are filled with unique, custom gifts that are curated with love.
Combine stunning gifts from local small businesses with our beautiful cheese + dessert grazing!
Our themes include Mama + Baby, Happy Birthday, Pretty Pamper and more!
SHOP GRAZING GIFT BOXES
Need grazing for a small event?
Our large wooden platters are filled with delicious grazing goodies and are sure to make your guests go 'Woah!'
Perfect for celebrations of around 8-25 people or you can combine several platters for a larger celebration!
SHOP PLATTERS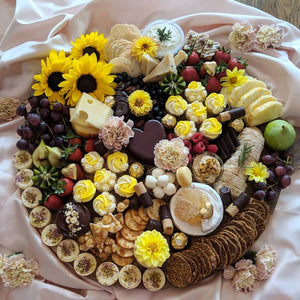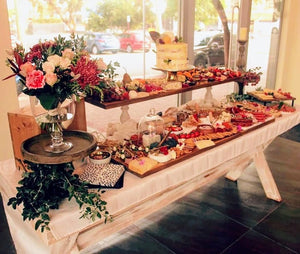 Need grazing for a larger celebration?
Our stunning grazing tables are perfect for your large events. Weddings, birthdays, engagement parties, bridal showers, hens nights, baby showers...all of life's most special whirlwind moments!
Suitable for celebrations with 20+ guests.
SHOP GRAZING TABLES
Putting the "cute" in charcuterie!
Our cute lil Charcuterie Cups are perfect for celebrations during recent times with little individual grazing portions for a covid friendly event!
SHOP CHARCUTERIE CUPS